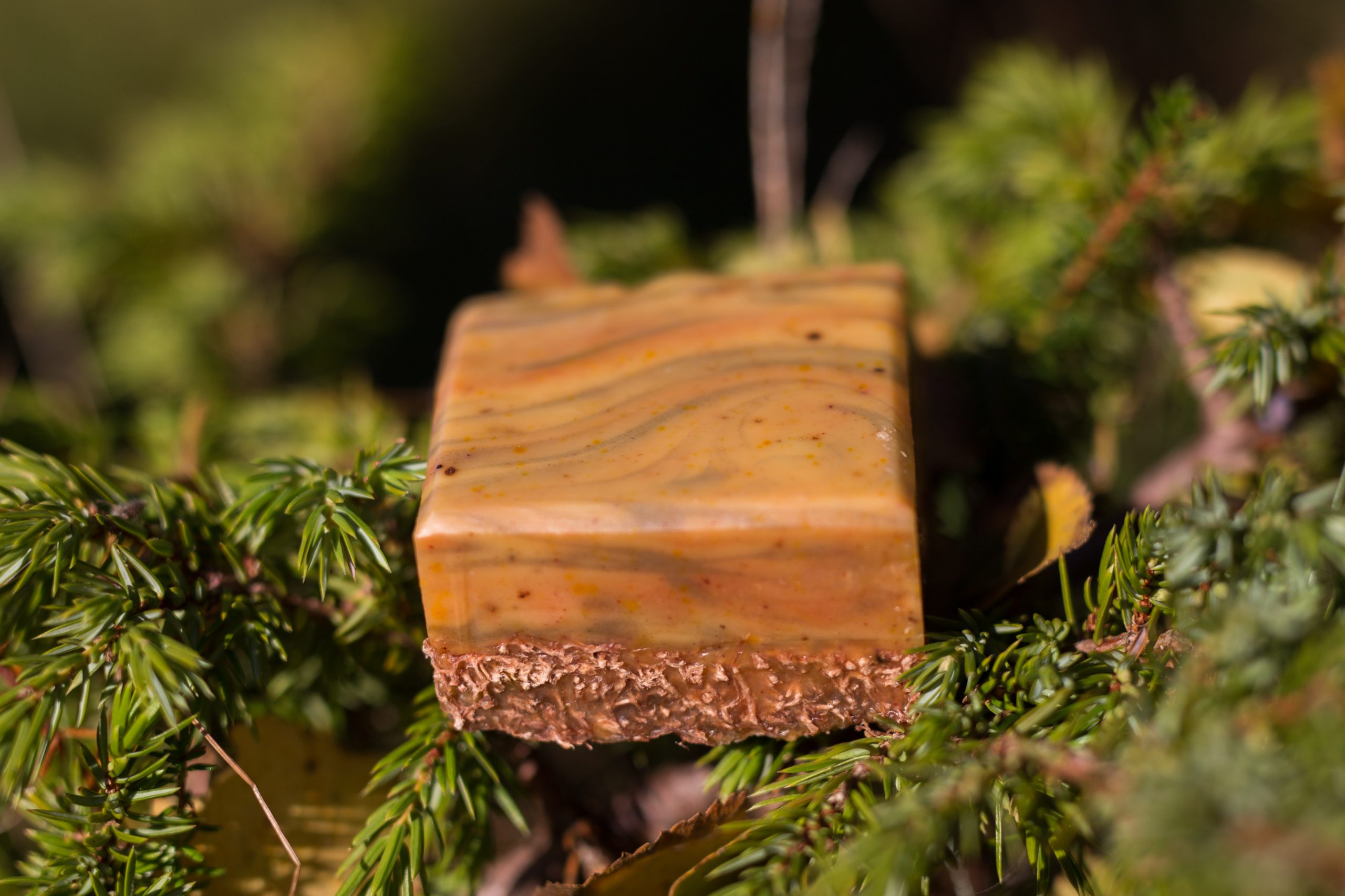 Dette innlegget er skrevet på engelsk, det er mitt bidrag til en internasjonal konkurranse jeg har deltatt i.
(The following entry is in english, as it is a post for an international competition I participated in)
I stumbled across the Soap Challenge Club a few months ago, and finally decided to join the fun! The challenge for October 2016 was to make a wood grain soap, and here is my first challenge entry.
Since I make all natural soaps my entry was in the all natural category.
I tried to take some pictures of the process of making the soap, sorry for the bad quality on some of these! Taking pictures with gloves on is not easy…
Luckily my husband helped me take some awesome shots of the finished soap bars.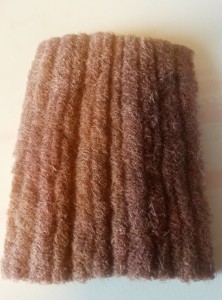 I decided to add loofah to my soap, attempting to make the flattened loofah piece look like the bark of my wood grain soap. Here is a quick overview of what I did to prep my loofah: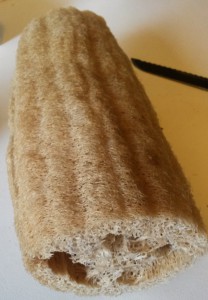 First I opened up my loofah and removed the core. Wetting the loofah I put it flat and added weight on top to try and flatten it out as much as possible. It really wanted to curl back up, even after it dried. I wanted to darken its color a bit, and as an experiment I soaked it in hot water with dried madder root. This worked pretty well, darkening it to a reddish brown.

Finally it was time to make soap! I had already made my colors, by mixing cocoa powder, madder root and activated charcoal in olive oil.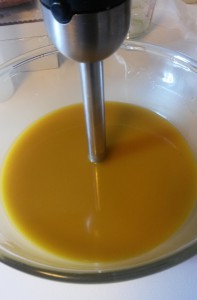 I used a high olive oil recipe I know is easy to work with, to ensure I would have time to finish the soap.
My ingredients were: Olive oil (40%), coconut oil (20%), sweet almond oil (10%), avocado oil (10%), cocoa butter (10%), castor oil (10%), kaolin clay (blended with my EO's), honey (added to oils), salt (added to lye water), ground myrrh gum, cocoa powder, madder root powder, activated charcoal, annatto seeds (added to lye water), silk
Essential oils: Fir needle, pine needle, marjoram, cedar wood, amyris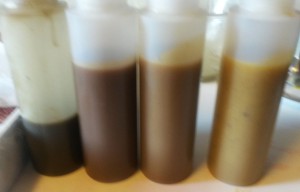 I used anatto seeds in my lye water and annatto infused olive oil to add warmth to the colors of the soap.
At a light trace I divided the batter into 4 squeese bottles, and used variations of my 3 colors to create 4 different shades. In the lightest batter I added some finely ground myrrh gum to hopefully give a textured look to the wood.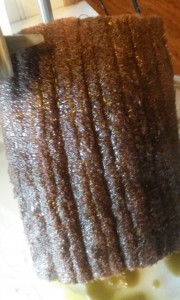 I had cut my loofah to fit my small square mold, and started by soaking it with the darkest of my colors. It soaked up half of my dark color! I then placed it in the bottom of the mold and started squirting stripes of the different colors on top of it. When finnished I used a chopstick to make some careful swirls.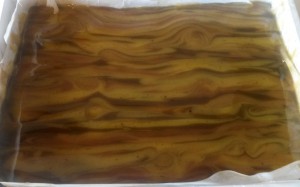 Knowing that this recipe can develop a lot of ash I covered my mold really well. Unfortunately not well enough it turned out! Here is the soap after it had set up: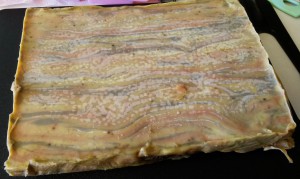 The loofah had curled up a bit, and also soap had run under it so that the cool bark look underneath the soap was unfortunately gone. I should probably have filled it with soap and let it set up before pouring the soap over it! Unfortunately I did not have time to start over for the challenge, so that will have to be a future project. And the loofah still gives a cool texture to the sides of the soap.
The essential oil blend is really woodsy, fresh and clean smelling, and I think this soap will be an excellent foot scrub with the loofah embedded!
And finally, the cut pieces of soap, cleaned of the soda ash: